UltraShape® Fat Reduction Treatment
If you've tried diet and exercise but still struggle with stubborn fat, you're not alone. The reason for this is because there are actually two different types of fat: visceral and subcutaneous. Eating right and exercising helps to reduce visceral fat, but subcutaneous fat can be harder to shed. Subcutaneous fat is located directly beneath the skin and is responsible for the "jiggly fat" and cellulite that plagues many of us.
The good news is that there are body contouring options that can help you shed those persistent pounds and have the body that you've always dreamed of. Contact us today to schedule an UltraShape® Power consultation or to learn more about all of our skin care services for healthier skin that will boost your confidence.
What Is UltraShape®?
UltraShape® Power is the first and only FDA-cleared non-invasive body contouring procedure that uses focused, pulsed ultrasound for selective fat-cell destruction. It is unlike any other body-sculpting technology available. Unlike liposuction, UltraShape® Power is non-surgical—which means no incisions, anesthetics, or recovery time. And unlike other fat-reduction procedures, UltraShape® Power is painless for most people and leaves no visible signs of treatment.
Benefits Of UltraShape®
After your UltraShape® treatments, all you're left with are smooth, contoured results, which can often be seen as quickly as two weeks after the first treatment. In fact, UltraShape® has the highest reduction of fat layer thickness of any non-invasive device on the market, resulting in a 32% reduction in fat layer thickness in the treated area. And there's no downtime for recovery after treatments. You can receive treatment, then hit your yoga class on the very same day.
How Does UltraShape® Work?
UltraShape® Power employs gentle ultrasound energy to break down fat cells underneath the skin into triglycerides. These triglycerides are then processed through the liver and eliminated from your body as waste. Unlike weight loss, which can only shrink fat cells, UltraShape® Power destroys fat cells permanently for long-term benefits. Because of the technology, there is no risk of damage to the surrounding tissues, blood vessels, nerves, or muscles.
What Is An UltraShape® Treatment Like?
Because treatments are non-invasive, no incisions or anesthetic are needed. In fact, the treatments are painless and even relaxing. Since each patient and area of concern is unique, you can speak with your doctor during a consultation to discuss the time for each treatment and how many treatments they suggest for achieving your goals.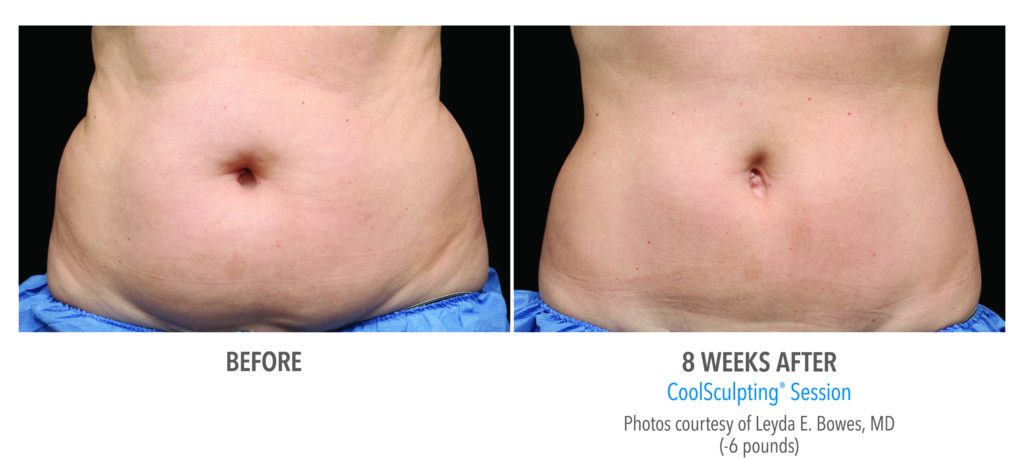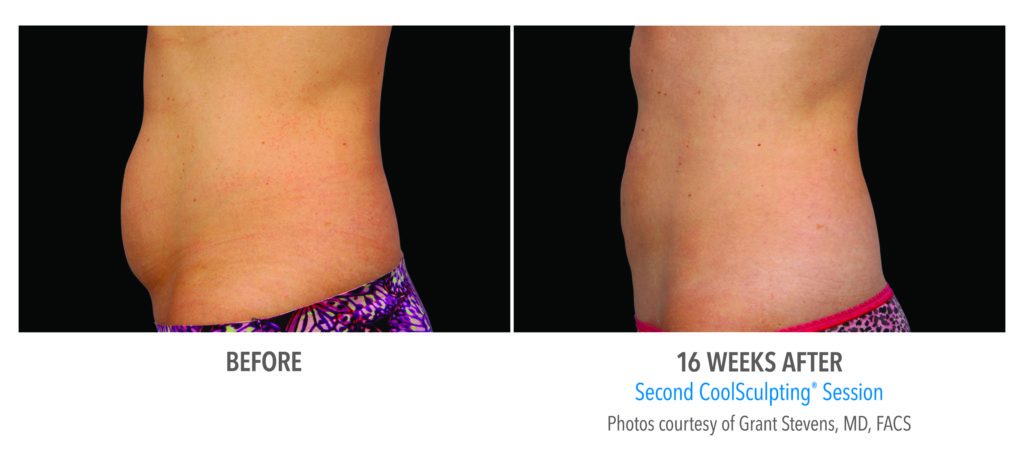 The images shown above are actual results, however individual results may vary.
*Noticeable changes to appearance may take longer.