VI Peel® Chemical Peel
If you're looking to rejuvenate the appearance of your skin, the VI Peel® face peel may be for you. This treatment is an effective, medical-grade chemical peel designed to improve the tone, texture, and clarity of the skin through the treatment of acne, acne scarring, fine lines, wrinkles, hyperpigmentation, melasma, and overall skin health. VI Peel® also works well in conjunction with lasers, injectables, and post-procedure. Your Gainesville dermatologist can help you determine if the VI Peel® is right for you.
What Is VI Peel®?
The VI Peel (Vitality Institute) Peel® is a medical-grade chemical face peel designed to youthen the appearance of the skin by removing the top layers of skin to reveal the newer, clearer skin. It can be used on the face, neck, chest, arms, legs, and back, and it is the only chemical peel that is safe for use within the under-eye area. Benefits of the VI Peel® include:
Reduces or eliminates age spots, freckles, and hyper-pigmentation
Softens fine lines and wrinkles
Reverses sun damage and environmental damage
Stimulates the production of collagen and elastin for firmer skin
Reduces acne scars
Clears acne
VI Peel® Ingredients
VI Peel® is one of the safest chemical peels available — it can even be used on skin located around the eyes. It uses a proprietary combination of ingredients to treat your skin for a younger, brighter appearance:
Trichloroacetic Acid (TCA): Smooths away scars, stimulates the growth of collagen.
Retin-A: Erases fine lines and wrinkles.
Salicylic Acid: Exfoliates the skin and prevents inflammation.
Phenol: Smooths deep lines.
Vitamin C: Brightens the skin and reduces hyperpigmentation.
How Does VI Peel® Work?
During VI Peel® treatment, the dermatologist will cleanse your skin before applying the solution in two phases: the first phase penetrates into the cells on the skin's surface, and the second phase goes deeper into the dermis to clear-out toxins and dead skin cells. The treatment takes about 20 to 45 minutes to perform. The vast majority of patients report the VI Peel® process to be painless, but patients with more sensitive skin may feel a mild to moderate burning or tingling sensation. Our Gainesville dermatologists may apply a cooling device to minimize any topical discomfort to the skin. The solution is quick-drying and patients can resume daily activities but must wait a minimum of five hours before washing it off.
Depending on your specific skin concerns, your dermatologist may recommend specific VI Peel® treatments, such as the following:
VI Peel® treats aging skin
VI Peel® with Precision treats more advanced aging skin
VI Peel® with Precision Plus treats age spots and other dark spots
VI Peel® PURIFY treats acne-prone skin
VI Peel® PURIFY with Precision Plus treats acne scars and skin damage
VI Peel® Side Effects
Following VI Peel® treatment, the skin will begin to peel within two to three days — in total, the peeling process lasts for approximately six days. This process usually appears as a mild sunburn that has begun to flake-off, but some patients may notice a red, brown, or yellowish tone to their skin. This is normal and nothing to worry about. See our post-peel instructions for detailed tips and directions for caring for your skin after the VI Peel® chemical peel.
Who Is A Good Candidate For A Chemical Peel?
Vi Peel® is safe and effective for all skin types and tones, but it is most effective for patients with fair to medium skin tones as well as those that want to heal acne, improve mild-to-moderate skin damage, and reverse early signs of aging. For patients with darker skin tones, this treatment may cause hyperpigmentation, so it is important to speak with a licensed dermatologist to determine whether VI Peel® face peel is a good cosmetic treatment option for you.
VI Peel® Results
Patients begin to see minor improvements to their skin immediately after the skin finishes peeling — approximately six days after treatment. Full results become apparent in four to six weeks, at which point the skin will appear firmer, clearer, and present a more youthful and radiant glow. Patients will experience noticeable results after their first VI Peel® face peel, but for ideal results, our Gainesville dermatologists recommend a treatment course of three to six treatments spaced three to four weeks apart. Contact our skincare specialists to schedule a consultation.
VI Peel Before & After Photos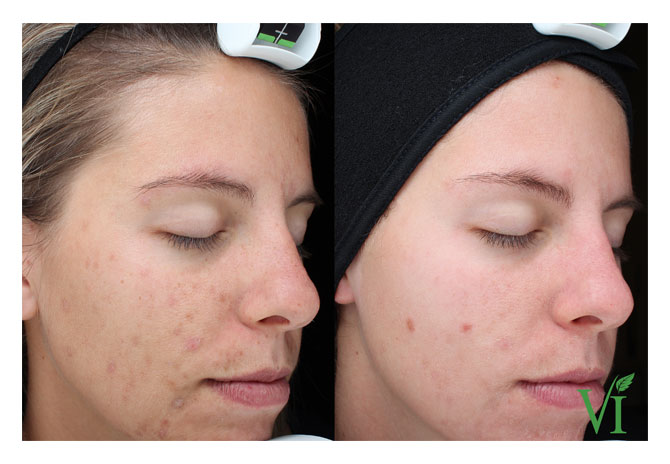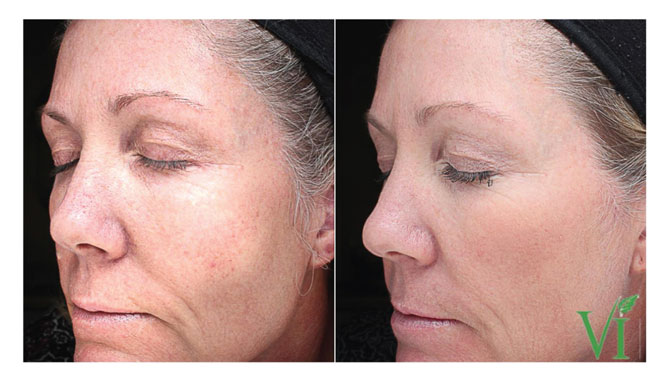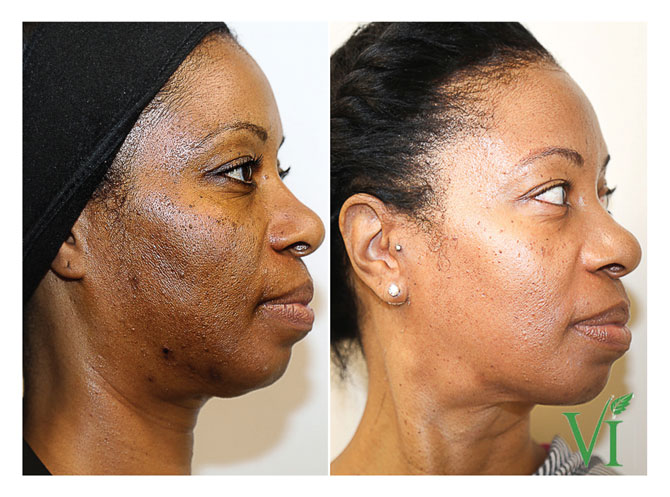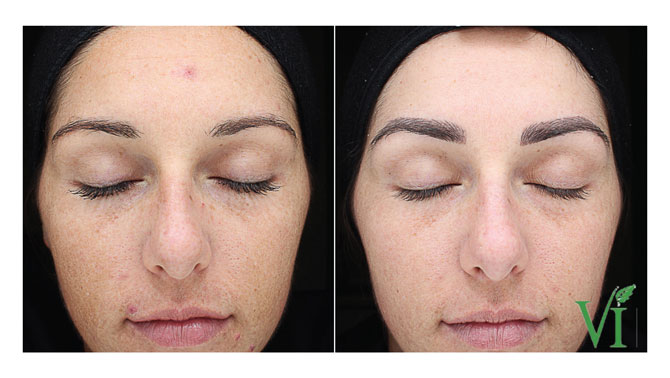 The images shown above are actual results, however individual results may vary.
*Noticeable changes to appearance may take longer.

Click here for post-peel instructions.
How Long Do VI Peel® Results Last?
VI Peel® results are not permanent and generally last around three to four months. Patients can prolong the results of their VI Peel® treatment if they follow certain skincare tips:
Avoid prolonged sun exposure
Wear sunscreen
Avoid harsh cosmetics
Do not exfoliate for at least a month following the procedure
Repeating the VI Peel® chemical peel three or four times a year will help to maintain results and keep your skin looking younger and brighter.