Bellafill®
Look your best and avoid sacrificing precious time and money on frequent injections with Bellafill®. Bellafill® is the only cosmetic facial filler that stimulates collagen growth long-term to help maintain a youthful appearance for up to five years. Youthful skin is supple, plump, hydrated with the help of healthy cells that turnover rapidly and regularly. Unfortunately, as we age, we lose essential nutrients, such as collagen and elastin, contributing to signs of external aging, including age-related volume loss and an overall lackluster appearance. With Bellafill®, patients can enjoy long-term benefits to their facial skin that look natural and feel wonderful.
Contact Gainesville Dermatology Aesthetic Center today to schedule a dermatology appointment and to learn more about our encompassing range of dermal fillers, cosmetic injectables, and skin rejuvenation treatments.
What Is Bellafill®?
Bellafill® for cheeks, also commonly referred to as Bellafill® cosmetic, is approved by the Food and Drug Administration to smooth smile lines and improve the appearance of nasolabial folds for up to five years. This innovative treatment harnesses the power of collagen to boost the body's natural ability to produce collagen, producing visible and natural improvements to the appearance of the skin for years. As we age, we experience a loss of facial glands, resulting in decreased natural oil production and less moisture in the skin. We also lose important proteins, such as collagen and elastin, leading to the formation of frown lines, crow's feet, laugh lines, and age-related volume loss.
Repeated facial movements, accumulated sun exposure, lifestyle, genetics, and other factors can speed up the natural aging process and cause dynamic wrinkles to become static lines, gradually etched into the skin over time. What's more, the cells within the skin diminish their ability to produce collagen as we age, causing the skin to become weaker and thinner. Bellafill® helps reroute this trajectory by encouraging the body to continue producing collagen, increasing cell turnover, and increasing concentrations of skin-quenching and skin-lifting proteins and molecules naturally occurring in the body and skin. Once injected, the collagen gel immediately reduces the appearance of smile lines, and the body continues to add volume over time.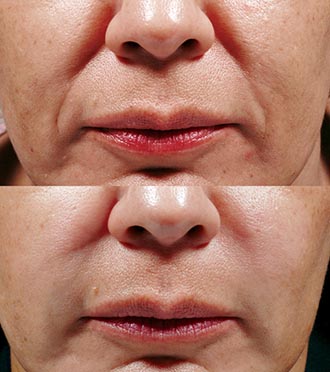 Before & After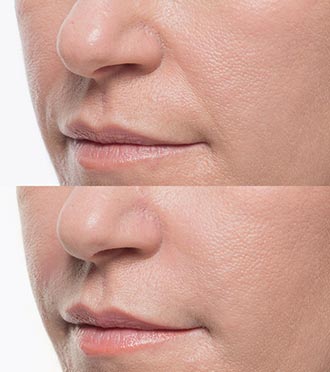 Before & After
Bellafill® For Acne Scars
In addition to providing long-term benefits to the appearance of midface wrinkles and fine lines, Bellafill® is also a filler for acne scars. Bellafill® is the only long-term facial filler that is FDA approved to treat distensible acne scars for up to one year. This collagen-boosting filler fades moderate-to-severe, atrophic, distensible facial acne scars on the cheek of patients 21 years of age and older. In just one visit to our Gainesville dermatology clinic, you can safely treat your acne scars and lasting improvements. Bellafill® fades acne scars long term by adding volume to them, which increases the level of the scars to that of the surrounding, healthy skin. As a result, patients can enjoy lasting improvements to their skin. While fillers, such as hyaluronic acid fillers, dissolve within multiple months of injection, Bellafill® restores the skin from within, building the body's framework now and in the future.
How Does Bellafill® Work?
Unlike temporary fillers, Bellafill® creates lasting improvements within the skin using a formula of tiny polymethylmethacrylate (PMMA) microspheres suspended in smooth collagen gel. As a biostimulator, Bellafill®'s microspheres provide a scaffold that supports the body's ability to stimulate collagen production, replacing the collagen gel as the natural collagen develops in the body over time. Once injected, Bellafill® immediately adds volume below wrinkles or atrophic acne scars to lift them to match the level of surrounding skin. Collagen is the most abundant protein found in the body, particularly the skin.
There are more than 20 different types of collagen that occur naturally in the body. Collagen provides tissue support, strength, and integrity to the skin. Bellafill® stimulates both predominant types of collagen found in the skin, being Type 1 and Type 2 collagen. Type 1 collagen is expressed widely in the body and is responsible for most tissue strength and integrity. Type 2 collagen is most often expressed during natural wound repair, as it aids the skin in its healing process.
Bellafill® Before And After
Treatments with the Bellafill® filler produce visible, long-lasting, and natural-looking results. After treatment with Bellafill®, patients report noticeable improvements to the appearance of fine lines in the midface region, such as nasolabial folds and atrophic acne scars. Following injections with this collagen biostimulator, patients can enjoy results immediately, while the formula continues to add volume to the face over time. Contact Gainesville Dermatology Aesthetic Center today to discuss your treatment goals and to find out how Bellafill® injections can benefit you.
Bellafill® Cosmetic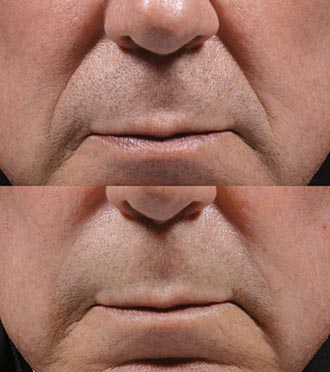 Before & After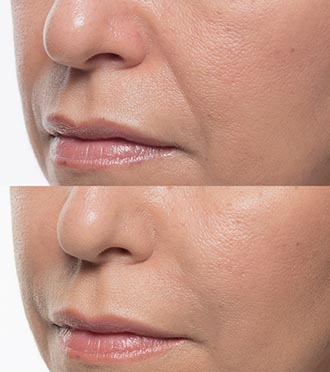 Before & After
Bellafill® Acne Scar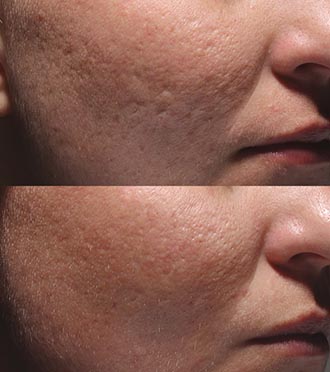 Before & After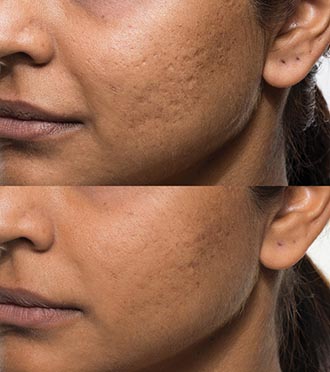 Before & After
How Long Does Bellafill® Last?
How long results will last from injections with Bellafill® depends on several factors unique to each patient, such as the severity of the patient's volume loss in the intended treatment area, the extent and severity of atrophic acne scars on the patient's face, and more. With optimal treatment, Bellafill® cosmetic is the only FDA-approved dermal filler to be safe and effective for up to five years, while Bellafill® for acne scars is FDA approved to safely and effectively treat acne scars and prevent their return for up to one year. Following these periods, patients may be eligible to receive secondary injections to preserve their results. When you notice the effects of your treatment with Bellafill® diminishing, contact our office to schedule an appointment with us.
Is Bellafill® Safe?
Bellafill® is generally safe for correcting nasolabial folds and moderate-to-severe, atrophic, distensible facial acne scars located on the cheek in patients 21 years of age and older. Patients who have a positive reaction to the Bellafill® skin test should not receive Bellafill®. Additionally, patients who have a history of severe allergies, have known bovine collagen allergies, are allergic to lidocaine, have bleeding disorders, or are prone to thick scar formation or excessive scarring should not receive Bellafill®. The safety of this dermal filler during pregnancy, breastfeeding, or in patients under 21 has not been established.
Possible Bellafill® side effects include temporary swelling, redness, pain, bruising, lumps/bumps, itching, and discoloration at the treatment site. These side effects are usually minimal and typically resolve within 1–7 days of treatment. Less commonly, patients may experience lumps, bumps, or papules more than one month after injection and may persist after that. Rare side effects include rash and itching more than two days after treatment, persistent swelling or redness, lumps/bumps, acne, and increased sensitivity at the treatment sites. Rarely, granulomas may occur and should be treated by your medical provider. Contact our dermatologist's office immediately if you notice any unusual skin reactions on or around the treatment area.
Bellafill® Aftercare
Aftercare for Bellafill® is typically minimal. After the procedure, most patients can immediately return to their normal, daily routines without downtime. Patients will be provided with aftercare instructions during their appointment. Generally, however, patients should avoid rubbing, touching, or putting physical pressure on the treated area or areas for the first few days to help prevent the filler from migrating out of place. For patients receiving Bellafill® for the correction of nasolabial folds, minimize facial movements, such as smiling, for about three days following treatment. We recommend patients likewise refrain from using makeup and certain skin care products on the day of treatment and avoid engaging in strenuous activities and exercise for at least 24 hours. Please contact our office for more information about how to best care for your skin following dermal filler injections.
Bellafill® Vs JUVÉDERM®
There are several FDA-approved fillers available on the market. Cosmetic fillers are injected beneath the skin to fill wrinkles, lines, and creases for a softer, more youthful appearance. Many cosmetic injectables can also fill the lips and create facial symmetry and contouring. Both Bellafill® and JUVÉDERM® are popular brands of fillers designed to help patients improve the appearance of their skin. The primary difference between these fillers is their ingredients, which may have a clear impact on the lasting power of your results. Bellafill® contains natural and synthetic materials in their formulation. This filler uses bovine (cow) collagen, which is absorbed by the body, while the included PMMA microspheres remain in the treated area, stimulating the body's natural collagen production. This creates lasting results for up to five years for nasolabial folds and one year for moderate-to-severe, atrophic, distensible facial acne scars on the cheek. The primary ingredient in JUVÉDERM® is hyaluronic acid (HA), a naturally occurring substance found in the body that retains large amounts of water and attracts additional moisture. When injected, HA is gradually absorbed into the body. As such, the results produced by this filler are temporary, lasting 6–18 months typically.